All this baby anticipating has gotten me thinking about ways I can make life easier for when I have a sleeping/crying/feeding baby in my arms. Here's what I came up with (with a little help from some blogs around the web that I totally forgot to source). And if one single person tells me that any of this is rude... I don't have a second half of that threat.
Chore List
Make a list of chores that you need help with. People always ask what they can help you with. Don't be afraid to just point to the list. Dishes, vacuum, dust, fold laundry, start dinner, clean the tub, etc. If you're visiting a woman who just had a baby, offer to help her with a specific item, and maybe even offer to write up a list for her so future visitors can help if they want. Some moms are really particular about the way they like certain chores to be done. If this is the case and she would rather do the chores herself, offer to take the baby for a walk so she can have some time in the house by herself.
Meal List
Often, church groups or friends will arrange to bring meals. Help a new mom out by getting some friends to sign up to bring her meals. Make sure to get allergy information from the mom first. Another thing that's helpful is frozen meals. Put together some freezer meals that just require baking. You can get disposable casserole dishes at any grocery store, so she won't even have to worry about giving them back to you.
Errand List
There are two ways to help mom with errands that need to be run. Offer to go for her, or offer to watch baby so she can get away for an hour. If you're helping her put together a chore list, you could add a grocery run to it. These
All Out Of pads
are really helpful for putting together a list of groceries. Also don't forget to ask her if she needs you to take anything to the post office, make any returns on baby stuff, or go get the car washed. If you're the new mom, get a list ready and an envelope of money so someone can easily run an errand for you.
Watch the baby
Sometimes (I've heard) moms just want an hour to themselves without someone pooping themselves. Offer to just hold the baby while she takes as long of a nap as she needs. Here are some things you can send mom to do while you watch the newbie:
- Take a bath, and she must light at least two candles
- Take a nap
- Go buy some clothes (heaven knows she wants to because nothing fits her right now)
- Go on a date with her husband
New moms, don't be afraid to put little
signs on your front door
. Sometimes visitors don't really think ahead. Etsy even has some cute options!
"Welcome visitor! Please do not knock or ring the doorbell. Text or call [phone number] so you don't wake the new baby. Thank you!"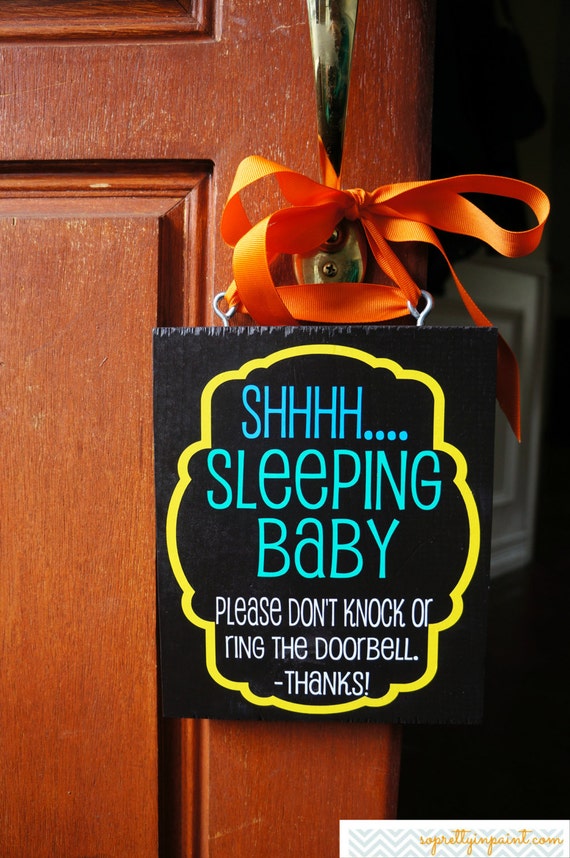 or
"Hello, visitor! If mom isn't expecting your visit, please come back at a time when she has a chance to get everything in order. Call [phone number] to set it up!"
or
"Hi visitor! If you or someone in your family has been sick in the last week, please reschedule your visit so mom and baby don't catch it! We'd hate to get sick when we're so brand new."
Here are some general guidelines for visiting a new mom and baby:
Don't
show up around a mealtime unless you plan on providing the meal. Mom doesn't need to worry about feeding you on top of everyone else. In fact, always bring food if you can.
Don't
show up without an appointment. You may think an unexpected visit might be nice, but it will just stress mom out, or worse, you'll catch her in the middle of a post-birth meltdown. Also, don't
tell
mom when you're coming. Ask when would be a good time
for her
.
Don't
be early because mom may not be ready for you, and don't be late because it could interfere with her and baby's schedule. On the day of your appointment, show up on time (also, make sure she knows you're coming).
Do
come bearing gifts. As mentioned above, food is always welcome. Other good things are diapers and wipes, or even books or magazines for her to read while she's nursing! Goodness knows she spends more time doing that than anything else in the beginning.
Do
tell the mom not to write you a thank you note. She will anyway, but it's nice to know you aren't expecting it.
Don't
be surprised if mom is wearing sweats or a bathrobe. If she is wearing clothes (even if she looks like an overstuffed sausage), compliment her profusely. Also, tell her she looks great and not tired at all.
Do
be clean.
Do not
touch the baby - especially the face or hands - without washing your hands with soap. Even then, always ask first.
Do not
offer parenting advice unless it is specifically asked for, and even then, be careful. Women are sensitive about whether they're doing things wrong, so
DO NOT
make them feel like they should be doing something different unless they explicitly ask.
Do
limit your stay to 30-45 minutes unless your helping with the chore list. Entertaining is hard.
Don't
bring children under the age of 7 with you. They tend to carry more germs, be restless, require more entertaining, and be louder.
If a meltdown occurs while you're visiting, just
listen
. Give mom a hug, and forgive her if she gets your sweater wet with tears, spit up, or breastmilk.
What advice do you have for handling visitors after a new baby?