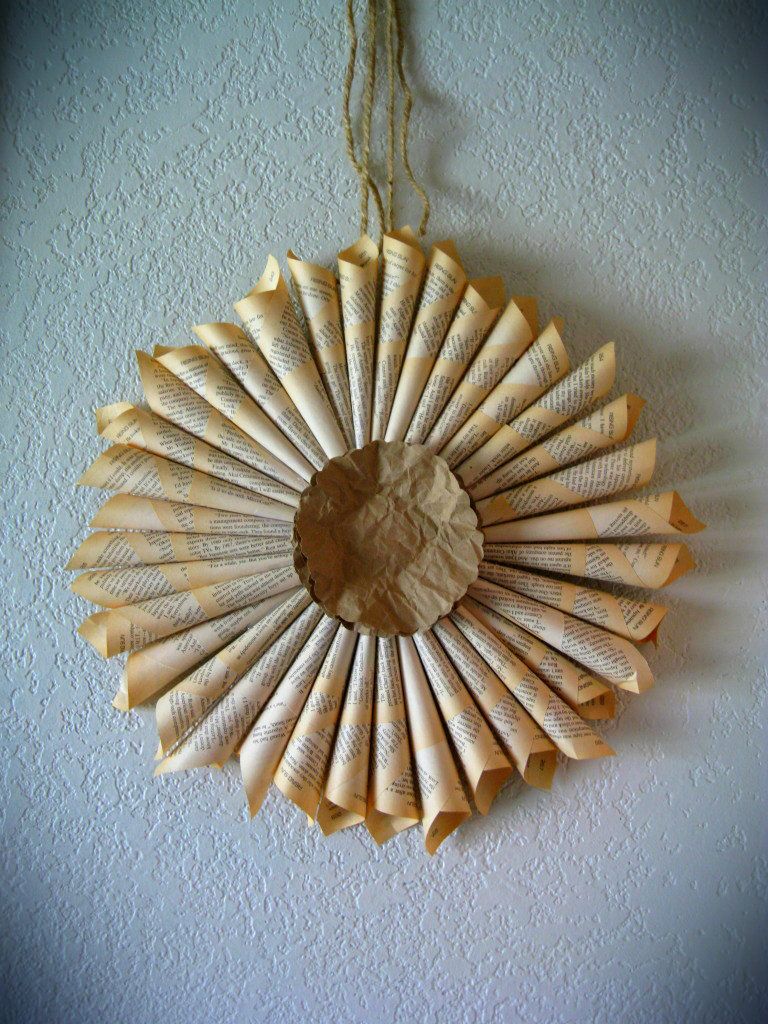 I made this pendant wreath a while ago when I had an abundance of energy and inspiration (you know, before I got pregnant). But really, it is the easiest craft you could do. It looks totally bookshop-y and country.
HOW TO:
Cut a piece of cardboard about 4 inches in diameter. This will be the backing to the pendant. Set aside.
Take an old book. One with yellowed pages would be good, but you may want to go with a more stark look, depending on the room. Carefully tear or cut the pages out of the book as close to the binding as possible. Roll each individual page into a very gradual cone, and secure with a piece of tape.
Assemble the pages to form a circle, and use hot glue to secure to the cardboard backing. Make sure the taped sides of the rolls are in the back. If there is a small gap in the middle of the circle when it's complete, that's fine. You'll cover it up.
For the center piece, I just used some crumpled brown paper cut into circles with scalloped scissors. I layered 4 or 5 pieces on top of each other to give it a more flowered look. You could also use a circular printout if you have one you've been wanting to use, or some scrapbook paper.
To hang on a wall, hot glue some twine or ribbon to the backing.
If you end up making one, take a picture and send it to me! I'd love to see how you styled it in your home, or what different materials you used!